The thrilling and critically-acclaimed 1997 TV mini-series 'House of Frankenstein' starring

Adrian Pasdar

has at last been released on DVD, exclusively at DVDRare.com!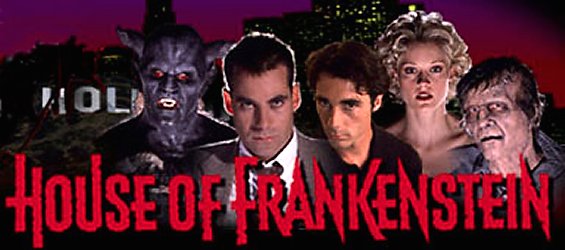 House of Frankenstein 1997 (also called simply House of Frankenstein in some advertisements) is a television mini-series that revives Universal's classic threesome, the vampire (in the original, Dracula), Frankenstein's monster and the werewolf (in the original, Lawrence Talbot aka the Wolf Man). This reinterpretation is set in late 1990s Los Angeles, with the action revolving around a nightclub named House of Frankenstein that is full of vampires. It first aired on October 28, 1997 on NBC, which also produced it.

Detective Coyle is trying to solve several bizarre murders and is having no luck finding a suspect. But when his girlfriend turns into a werewolf and gets kidnapped by a vampire, things start to fall into place......

Adrian Pasdar ... Detective Vernon Coyle
Greg Wise ... Crispian Grimes
Teri Polo ... Grace Dawkins
CCH Pounder ... Dr. Shauna Kendall
Peter Crombie ... Frankenstein's Creature
Miguel Sandoval ... Detective Juan 'Cha Cha' Chacon
Jorja Fox ... Felicity
Richard Libertini ... Armando
Karen Austin ... Irene Lassiter J.A. Preston
William Converse-Roberts ... Grant Russo
Melinda McGraw ... Detective Maggie Delbo
The House of Frankenstein DVD is a collection of DVDs in a box set as shown above.
The DVD collection also includes custom artwork and episode guides so you can find your favorite episode at anytime.
The DVD collection is formatted region free so they will play Worldwide.
Presented in full screen format - exactly as it was shown on television.
Presented in English
Brand new and sealed