Sale
DVDRare.com is proud to present the release of the classic action TV show 'Viper' on DVD. This DVD Box Set contains all 4 seasons of the show, that's 71 episodes in total spread across 20 DVD discs! Order today, as this DVD Box Set is an extremely limited edition release!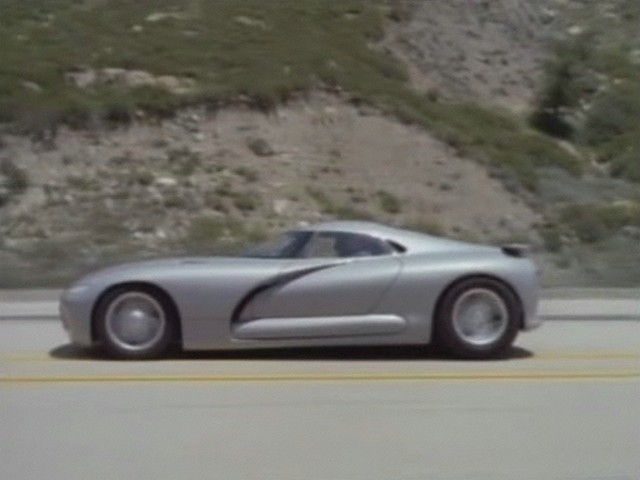 Metro was under siege from the crime wave that was begun by "The Outfit", a
crime group led in the pilot by a man known only as Mr. Townsend (played by
William Russ), and later led by Lane Cassidy (played by Richard Burgi). The Metro
Police Department, or MetroPol, was unable to get a handle on the situation. This
led to the creation of the Viper Project, a special top secret task force created by
the federal government to fight the wave of violence sweeping Metro.
This task force used a modified 1994 Flame Red Dodge Viper RT/10 Roadster sports car that could, at the flip of a secret switch, transform from a muscle car into an armored machine.
Known as "Defender". The "Defender" was an invention of technological specialist Julian Wilkes(played by Dorian Harewood), who was paralyzed during a shootout between police and criminals. The project was delayed by numerous setbacks, mainly because regular drivers were unable to handle this deadly machine. A precision driver was needed for this car.
Michael Payton (played by James McCaffrey), a top driver for "The Outfit", was leading
his team from their latest heist when he got caught in an accident and was injured.
Captured, Payton's memory was erased and he was reborn as Joe Astor, an officer
for Metropol. With a bribe to Councilman Strand (played by Jon Polito), the man who approved the Viper Project and orchestrated the erasure of Payton's memory,

"The Outfit" discredits the Viper Project, leading to its cancellation. However, Astor and Wilkes, with the help of mechanic Franklin Waters (played by Joe Nipote), steal the Viper and gain access to Payton's bank account, using both in a private war against crime.
Astor runs the operation for several months before he is sent to Europe to handle deep cover operations for the U.S. Government, leading to the end of the Viper Team's war on crime.
The Viper DVD is a collection of DVDs in a box set as shown above, all 100% in chronological order from the pilot to the finale.
The DVD collection also includes custom artwork and episode guides so you can find your favorite episode at anytime.
The DVD collection is formatted region free so they will play Worldwide.
Video quality isn't high-resolution by modern standards, but watchable and is the only surviving recording of this great show which exists!
Presented in full screen format - exactly as it was shown on television.
Presented in English
Brand new and sealed